I must have been born a goth. Since childhood, I've been fascinated by the morbid, the macabre, by death and the afterlife.
I didn't get this from my parents; my father was an Evangelical United Brethren pastor, and my mom taught Sunday School.
(Come to think of it, when I was 12, my dad did turn me on to a story from his college freshman English Lit textbook: William Faulkner's "A Rose for Emily" [1930]. But that was it.)
Somehow, at an earlier age—like second grade—I'd caught the horror bug.
Formative literary influences
I've told elsewhere of my love for Norman Bridwell's lighthearted 1970 easy reader, How to Care for Your Monster, and of my allegiance to Thomas Tryon's The Other (1971) and James Herbert's The Rats (1974).
As a teen, I read paperback copies of Frankenstein, Dracula, and the classic collection, Great Tales of Terror and the Supernatural.
I picked up and nurtured my love of dark fiction on my own.
What I did get from my parents was religion.
My varied writing and religious education
During my elementary and secondary school years, the only thing I wanted to be when I grew up was a writer. I graduated with honors from Indiana University of Pennsylvania with a BA in English.
I married in 1987, became Pentecostal in 1988, and pastored a house church for three years.
Later, I earned an MA in biblical studies and took coursework toward an MDiv. That was before I divorced and came out as gay.
I recently completed an MFA in Popular Fiction Writing from Seton Hill University.
From this miasmic stew of lurid attraction to the eldritch, supernatural abilities, faith, and the sexual outcast, I mixed horror, religion, and gay romance into my fifth cross-genre novel.
Religion in The Covenant Sacrifice
The Covenant Sacrifice includes a number of religions, spiritual beliefs, and practices:
A toxic, homophobic form of evangelical/Pentecostal Christianity that currently has a stranglehold on conservative American politics and makes life difficult for LGBTQ folks here
Dark occult witchcraft, stereotypically drawn
Spiritualism, portrayed positively
By including characters with such backgrounds and practices in The Covenant Sacrifice, I compare and contrast their beliefs and resulting actions, including how they treat others. I leave it up to you to draw your own conclusion about who is—or isn't—a decent human being.
What many don't know is that, besides pastoring, I wrote a number of biblical teaching books for Pentecostal readers. I kept my faith when I stepped out of the closet but, because I'm gay, most churches are no longer a safe space for me and other queer believers.
So, I support Pentecostal LGBTQs through my ministry site, https://leeallenhoward.org.
I also put my Bible knowledge and background in Pentecostal Christianity to work creating a sinister antagonist, the defrocked Uriah Zalmon.
Zalmon's personal transgressions have brought a terrible curse on the remote rural community of Annastasis Creek. To temporarily appease this curse, the self-righteous Zalmon must find a sinner to sacrifice. Who better than an "unrepentant homosexual"?
But spiritual forces oppose Zalmon's Pharisaical plan. Agatha Abbott, dark servant of Baphomet, enacts her own strategy that's as selfish and wicked as Zalmon's.
The Spiritualist medium, Twylah Sharpe, a sympathetic character and Jarod's mentor in The Covenant Sacrifice, was written from experience. Her beliefs and practices are true to form.
I know, because I've studied and practice psychic mediumship.
My unorthodox religious studies
In addition to my Christian experience and education, I studied Theosophy, the New Age, Spiritualism, and psychic mediumship intensively for a decade.
I'm a graduate of the Morris Pratt Institute (the educational branch of the National Spiritualist Association of Churches) and am ordained as a Spiritualist minister and metaphysician with Fellowships of the Spirit in nearby Lily Dale, New York.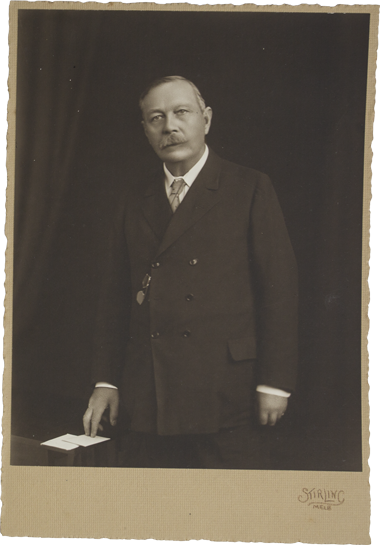 I was trained and mentored by the late Rev. Elaine Thomas, who was mentored by Spiritualist medium Rev. Edith Sandy Wendling.
Wendling was tutored and trained by none other than Sir Arthur Conan Doyle—author of the Sherlock Holmes series.
Few know that Conan Doyle also practiced and wrote about Spiritualism and mediumship, including his two-volume History of Spiritualism (1926).
(Fun fact: I've slept in the same Lily Dale boarding-house room as Conan Doyle!)
I'm a practicing mystic, medium, and channel. I do readings and am taking on mentees. If you're interested, check out https://ChristianMedium.org.
Bringing it all together
By examining religious hypocrisy and homophobia—and the resurrection of the dead—my hope is that, with my religious studies and practices, I've created a horror novel with complex characters that are authentic and deep.
If cult horror, religious horror, the supernatural, and gay romance intrigue you, give it a read and find out: The Covenant Sacrifice.
As always, honest yet kind reviews on Amazon and other sites are greatly appreciated.
"Whether readrs choose The Covenant Sacrifice for its paranormal promise or its social inspections, one thing is certain: its draw and thought-provoking scenarios are powerfully rendered attractions. They are designed to appeal to a wide audience, surprising those who expect formula products with bigger-picture thinking that goes beyond supernatural or horror realms to delve into matters of the human heart and soul.

—D. Donovan, Sr. Reviewer, Midwest Book Review
More information:
Comments to this post